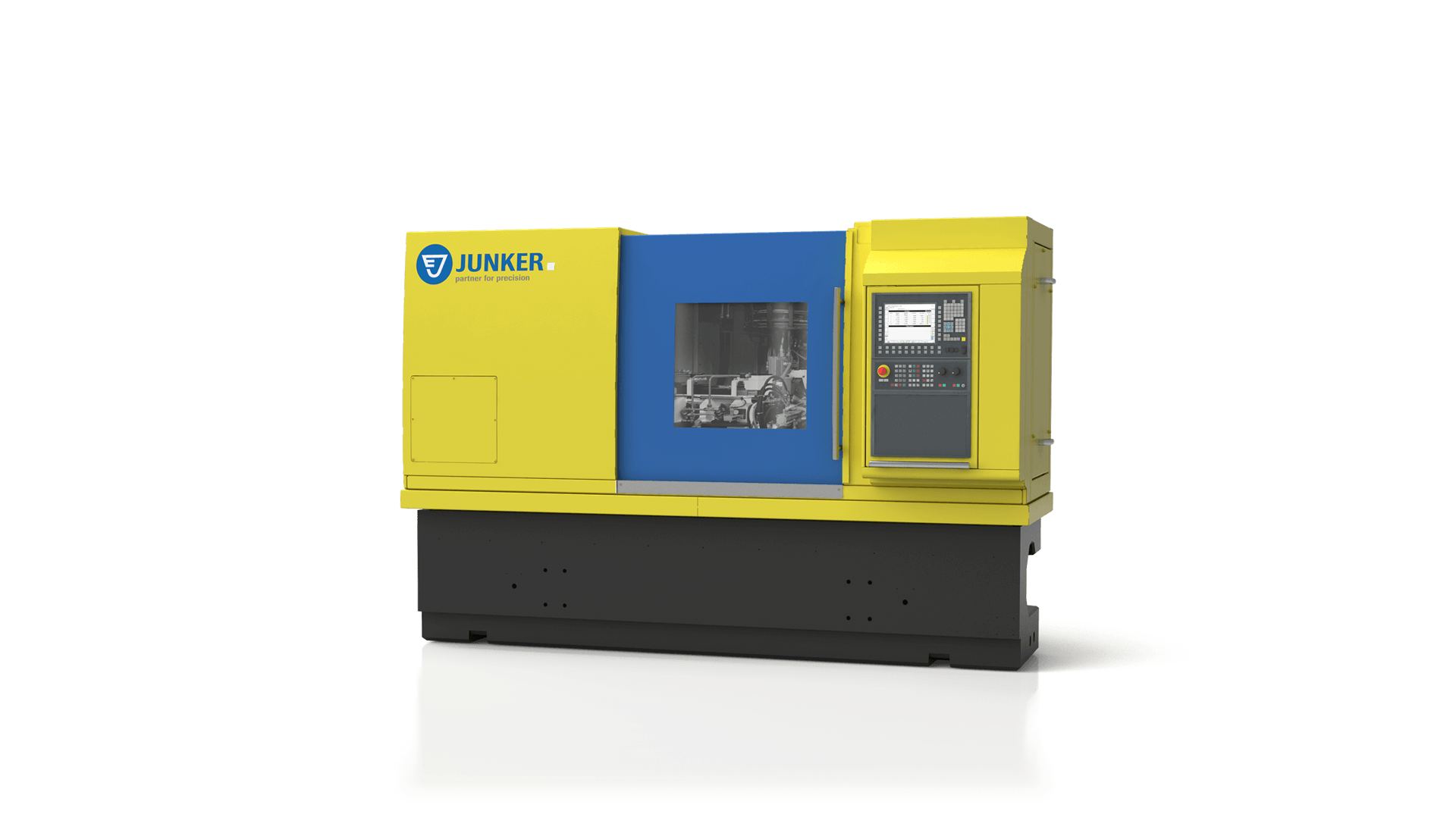 JUMAT - Cylindrical grinding machines
Versatile in every regard
Quality, productivity, availability – the JUMAT external and internal cylindrical grinding machine leaves nothing to be desired. Various sizes and a large number of wheelhead versions offer unrivaled versatility. Paired with the concentrated expertise of JUNKER, each machine is specially matched to the customer's requirements.
Highlights
High dimensional accuracy thanks to various measuring systems
Long tool life through use of CBN or diamond grinding wheels
Versatility due to a large number of wheelhead versions
Minimized undulations due to grinding wheel balancing on two levels
Fast changeover through patented 3-point mounting interface
Grinding process descriptions

Außen- und Innenrundschleifen

Die Rundschleifmaschinen der Baureihe JUMAT können Werkstücke in einer Einspannung sowohl außen als auch innen schleifen. CBN- und Diamant-Schleifscheiben erlauben das Schleifen mit Hochgeschwindigkeit, sorgen für eine hohe Zerspanleistung und ermöglichen das Schleifen schwer zerspanbarer Materialien.
Außenrundschleifen

Beim Außenrundschleifen werden die Werkstücke zwischen Spitzen oder in einem Spannfutter eingespannt. Zur Steigerung der Produktivität werden bei einigen Anwendungen Satzschleifscheiben eingesetzt. Für das Außenrundschleifen nutzt die JUMAT das Gerad- und Schrägeinstechverfahren.

Beim Geradeinstechschleifen erfolgt die Schnitt- und Zustellbewegung radial zum Werkstück. Die Durchmesser werden entweder in einer Zustellung geschliffen oder mit mehreren Zustellungen und axialem Verziehen.
Beim Schrägeinstechschleifen ist die Schleifscheibe schräg und der Schleifspindelstock (B-Achse) geschwenkt. Die X- und Z-Achse interpolieren. Somit ist man in der Lage Durchmesser und Planflächen in einer Zustellung zu schleifen.

Zum Schleifen von Einstichen oder zum Vorschleifen von Gewinden wird meist eine galvanisch gebundene Schleifscheibe verwendet.
Innenrundschleifen

Das Innenrundschleifen ermöglicht die präzise Bearbeitung von inneren Funktionsflächen wie Bohrungen, Konen oder Planflächen. Verwendet werden Schleifspindeln mit einer hohen Drehzahl, um die gewünschte Schnittgeschwindigkeit trotz des kleineren Durchmessers der Schleifscheibe zu erreichen.
Special solutions
Mittenantrieb
Der Mittenantrieb ist ein Sonderantriebssystem, welches das Werkstück in der Mitte einspannt und über einen Servo-Motor antreibt. Dadurch können beide Werkstückenden parallel bearbeitet werden.
Schleifen von Lenkstangen
In der Automobilindustrie kommen vermehrt elektromechanische, achsparallele Servolenkungen zum Einsatz. Das Außengewinde der Lenkstange schleift die JUMAT in einer Einspannung aus dem Vollen. Das Vorschleifen erfolgt mit galvanisch gebundenen Schleifscheiben, das Fertigschleifen mit keramisch gebundenen CBN-Schleifscheiben.
Schleifen von Kugelgewindemuttern
Der Doppelwerkstückspindelstock mit zwei gegenüberliegenden Einspannvorrichtungen minimiert die Nebenzeit beim Gewindeschleifen von Kugelgewindemuttern: Während auf der einen Seite geschliffen wird, wird auf der anderen bereits ent- und beladen, positioniert und eingespannt. Einzige Nebenzeit: Schwenken um 180 Grad in weniger als 3 Sekunden.
Technical data: JUMAT 1S
Wheelheader Number

1

Grinding Length

150 mm

Clamping Length

150 mm

Center Height

100 mm

Component Weight

5 kg

Grinding Wheel Diameter

350 mm

Swing Diameter

80 mm

WxDxH mm (without peripherals)

1800 x 2500 x 2100

Weight

10000 kg
Technical data: JUMAT 1000
Wheelheader Number

1

Grinding Length

150 mm

Clamping Length

150 mm

Center Height

100 mm

Component Weight

5 kg

Grinding Wheel Diameter

350 mm

Swing Diameter

80 mm

WxDxH mm (without peripherals)

1500 x 2500 x 2100

Weight

9000 kg
Technical data: JUMAT 3000
Wheelheader Number

1

Grinding Length

400 mm

Clamping Length

400 mm

Center Height

150 mm

Component Weight

15 kg

Grinding Wheel Diameter

350 mm

Swing Diameter

150 mm

WxDxH mm (without peripherals)

3400 x 2800 x 2200

Weight

12000 kg
Wheelhead JUMAT 3000
/10

/10i

/15

/20

/30

/40

3000/50

/50S

/60
Technical data: JUMAT 5000
Wheelheader Number

1

Grinding Length

700 mm

Clamping Length

700 mm

Center Height

170 mm

Component Weight

130 kg

Grinding Wheel Diameter

500 mm

Swing Diameter

280 mm

WxDxH mm (without peripherals)

4900 x 3400 x 2350

Weight

14000 kg
Wheelhead JUMAT 5000
/10

/10i

/15

/18

/20

/30

/30KGi

/40

5000/50

/50S

/60
Technical data: JUMAT 6XS
Wheelheader Number

1

Grinding Length

500 mm

Clamping Length

600 mm

Center Height

170 mm

Component Weight

130 kg

Grinding Wheel Diameter

500/700 mm

Swing Diameter

280/320 mm

WxDxH mm (without peripherals)

3260 x 3750 x 2450

Weight

17000 kg
Wheelhead JUMAT 6XS
/10

/10i

/15

/18

/20

/30

/40

/50

/50S

/60
Technical data: JUMAT 6S
Wheelheader Number

1
2

Grinding Length

1000 mm
750 mm

Clamping Length

1200 mm

Center Height

170 mm

Component Weight

150 kg

Grinding Wheel Diameter

500/700 mm

Swing Diameter

280/320 mm

WxDxH mm (without peripherals)

4100 x 3750 x 2450

Weight

21000 kg
25000 kg
Wheelhead JUMAT 6S
/10

/10i

/15

/18

/20

/30

/40

/50

/50S

/60
Technical data: JUMAT 6L
Wheelheader Number

1
2

Grinding Length

1800 mm
1500 mm

Clamping Length

2000 mm

Center Height

170 mm

Component Weight

200 kg

Grinding Wheel Diameter

500/700 mm

Swing Diameter

280/320 mm

WxDxH mm (without peripherals)

4900 x 3750 x 2450

Weight

24000 kg
28000 kg
Wheelhead JUMAT 6L
/10

/10i

/15

/18

/20

/30

/40

/50

/50S

/60
Technical data: JUMAT 6XL
Wheelheader Number

1
2

Grinding Length

2800 mm
2500 mm

Clamping Length

3000 mm

Center Height

170 mm

Component Weight

300 kg

Grinding Wheel Diameter

500/700 mm

Swing Diameter

280/320 mm

WxDxH mm (without peripherals)

6400 x 3750 x 2450

Weight

28000 kg
32000 kg
Wheelhead JUMAT 6XL
/10

/10i

/15

/18

/20

/30

/40

/50

/50S

/60
Workpieces
Axle
Starter shaft
Drive shaft
Countershaft
Bolt
Bushing
Electric motor shaft
Excentric shaft
Stub shaft
Gear shaft
Piston pin
Piston ring
Motor shaft
Pump piston
Pump pinion
Pipe
Rotor
Worm wheel
Worm shaft
Spindle
Rod
Stator shaft
Stud
Turbine shaft
Cylinder
Rolling element
Shaft
Tool holder
Tool Blank
Gearwheel
Gear rod
Spigot
Cylinder rollers
To the top