Inquiry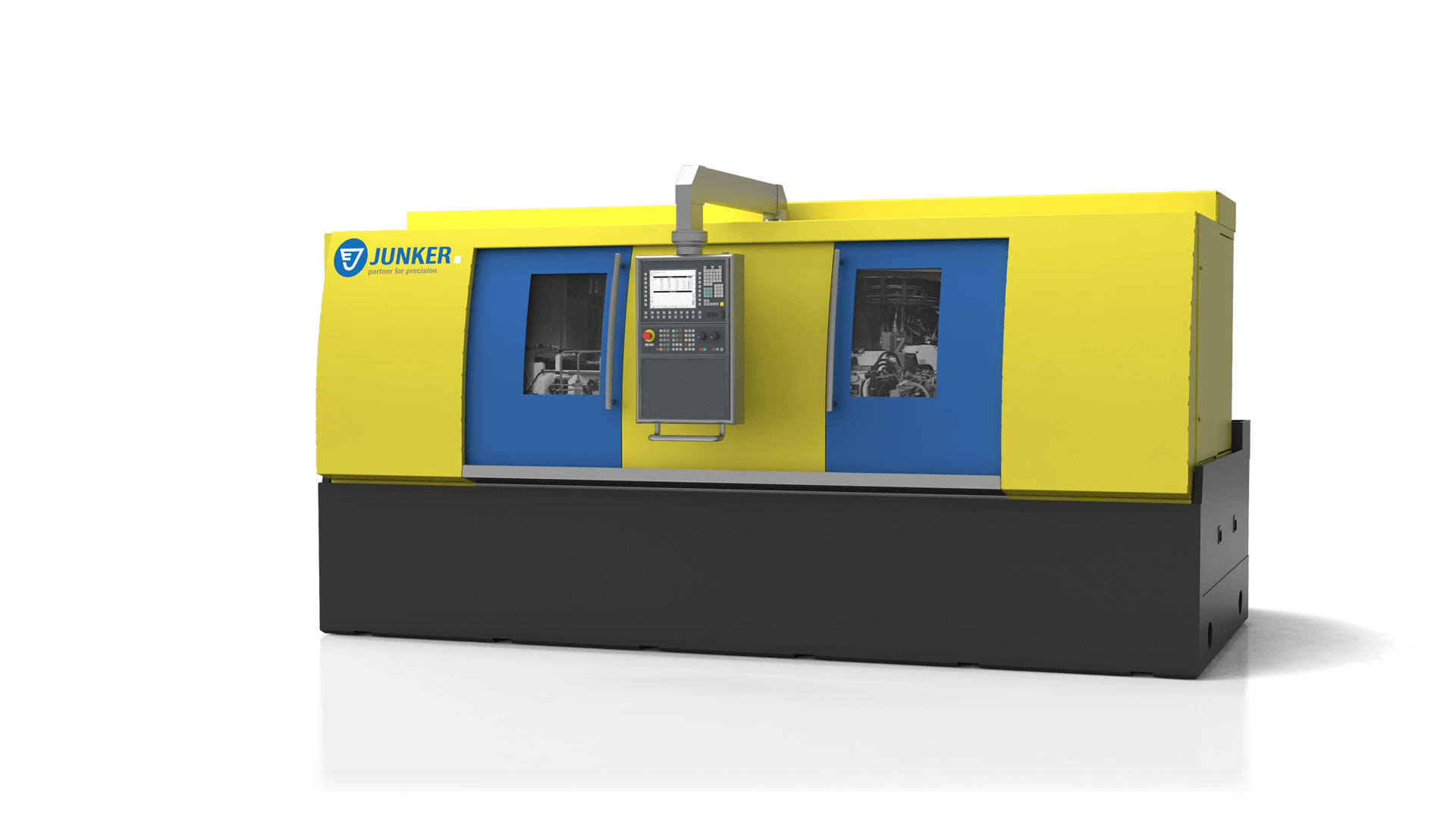 JUCENTER - Multi-station grinding center
High-Production grinding for large Series
The JUCENTER CBN high-speed grinding machine combines mutually complementary grinding possibilities under one hood. Instead of lining up individual grinding machines for different grind-ing tasks, both grinding processes take place in two separate clamping set-ups on one machine. The result: highly efficient grinding – all with top precision.
Highlights
Faster production time
High process reliability
Low overall investment
Low space requirement
Low operating costs
Less man-power required
Controlled dimensional accuracy using in-process gauging
Controls with "Learning Function," including automatic compensation of roundness deviation and dimensional errors
High long-term accuracy with hydrostatic circular guides (X-axis, infeed spindle, axial bearing)
Uncoupled processes
Grinding process descriptions

Grinding concepts for cam, crank or gear shafts

Gear shaft grinding
At station 1, JUCENTER grinds plunge-cuts and faces in a high-speed gear shaft grinding process. With the help of a B-axis, the grinding spindle can be swiveled to grind plunge-cuts, as well as faces with very fast cycle times. In station 2, multiple-bearing grind-ing of all centric diameters takes places
Crankshaft grinding

In station 1, CBN multiple-bearing grinding of all centric diameters (bearings and pivot) takes places. Parallel to this, other grinding carriages in the next clamping set-up (station 2) carry out non-circular grinding - that is, the grinding of main bearings. This is done using the pendulum grinding method with separately controlled CBN
grinding wheels. Depending on workpiece-specific factors, workpieces can also be run in the opposite direction (from station 2 to station 1).
Camshaft grinding

In station 1, sets of bearings are ground with one plunge-cut, using multiple-bearing technology. In station 2, JUNKER offers a versatile solution for grinding a variety of cam shapes. By using two independant infeed axes on station 2 for non-circular grinding, the machine can grind cams with unequal radial alignment just as fast as when using a set of grinding wheels.
Technical data: JUCENTER 6L
Wheelheader Number

4

Grinding Length

500 mm

Clamping Length

500 mm

Center Height

170 mm

Component Weight

30 kg

Grinding Wheel Diameter

500/700 mm

Swing Diameter

280 mm

WxDxH mm (without peripherals)

4900 x 3750 x 2450

Weight

31000 kg
Wheelhead JUCENTER 6L
/10

/10i

/11

/12

/13

/15

/16

/18

/20

/30

/40

/50

/51

/60

/61

/62
Technical data: JUCENTER 6XL
Wheelheader Number

6

Grinding Length

500 mm

Clamping Length

500 mm

Center Height

170 mm

Component Weight

30 kg

Grinding Wheel Diameter

500/700 mm

Swing Diameter

280 mm

WxDxH mm (without peripherals)

6400 x 3750 x 2450

Weight

34000 kg
Wheelhead JUCENTER 6XL
/10

/10i

/11

/12

/13

/15

/16

/18

/20

/30

/40

/50

/51

/60

/61

/62
Workpieces
Gear shaft
Crankshaft
Camshaft
To the top