Inquiry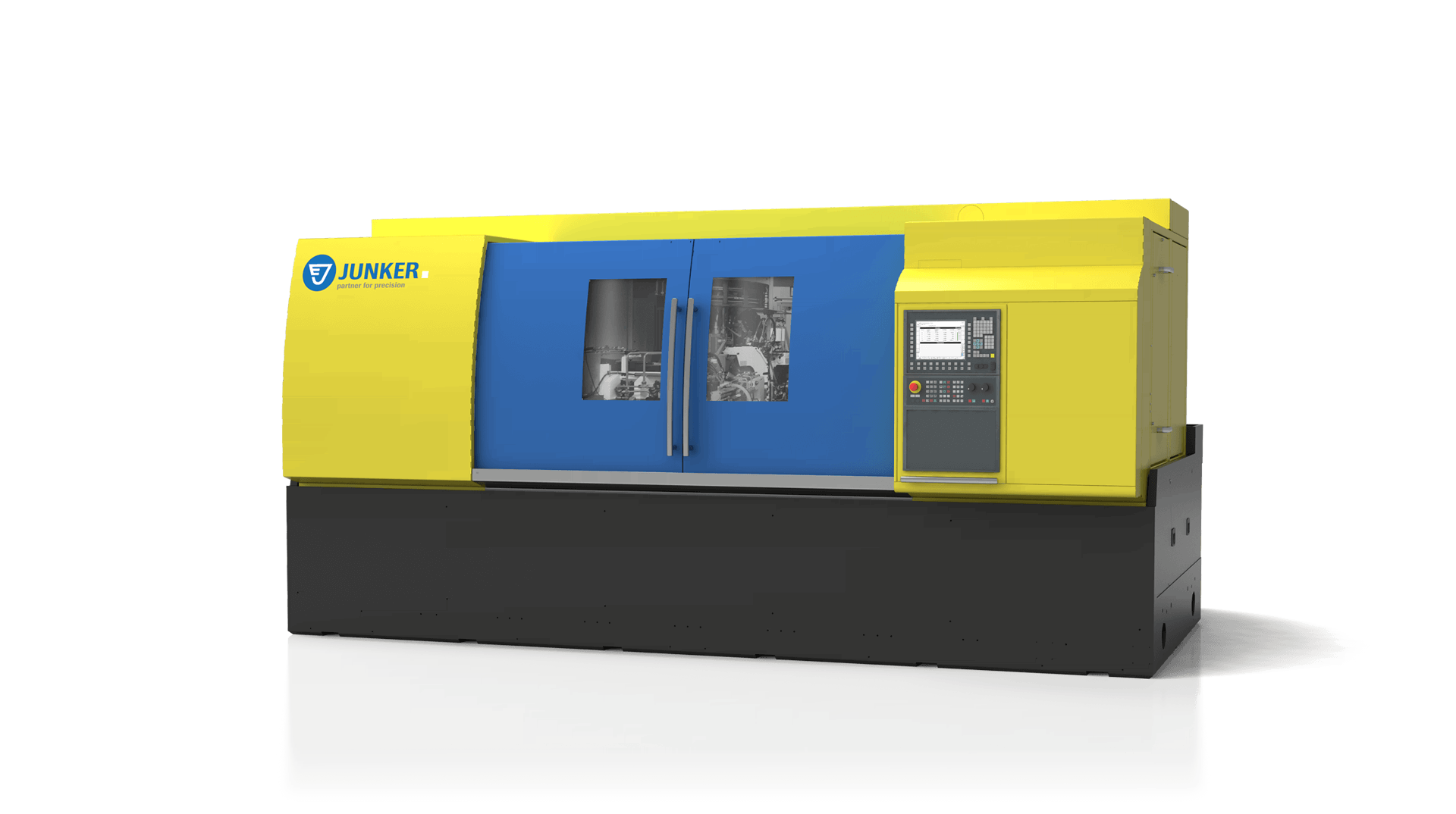 JUCRANK - Non-cylindrical grinding machines
Precise in a single set-up
The JUCRANK non-cylindrical grinding machine accomplishes all grinding tasks on crankshafts. Maximum accuracy and quick cycle times are achieved through oscillation grinding in a single clamping set-up and through the productive machine concept. Ideal dimensional stability and high process reliability are ensured through in-process measurements, for example.
Rough and finish grinding of crankshafts in all batch sizes can be carried out on platforms with various dimensions. For main, pin and thrust bearings, diverse geometric shapes as well as plane surfaces and radii can be ground. Internationally renowned engine manufacturers place their trust in the versatile, productive JUCRANK non-cylindrical grinding machine.
Highlights
High process reliability due to complete grinding in a single set-up
Optimum grinding quality due to automatic compensation of disturbance variables
High dimensional stability due to in-process measuring system
Flexible use for wide-ranging different cylinder numbers by CNC resetting
Extreme smooth running due to directly driven grinding and work piece spindles
Optimum support provided with self centering three point steady rests
Grinding process descriptions

Pendulum grinding

The pendulum grinding method enables crankshafts to be rough and finish ground in a single clamping set-up. The crankshaft rotates around its central axis and the grinding wheel follows the circular motion of the pin bearing by interpolation of the workpiece spindle (C axis) with the grinding spindle (X axis).

To achieve top concentricity quality, crankshafts are frequently supported on a steady. The rough grinding process relieves any hardening stress in the material and an in-process measuring system supplies correction data for finish grinding.
Axially parallel

The grinding wheels and the workpiece are arranged in axially parallel formation, enabling straight plunge grinding of the bearings. The grinding wheels are dressed to ensure the geometric shape of the bearings.
with adjusting axis (WK axis)

Pendulum grinding is made more flexible by a new development from JUNKER: The WK axis. This axis swivels the grinding spindle, on which narrow grinding wheels are mounted, within the micron range during grinding. Benefit: Every main and pin bearing can be given its own profile shape – compensating for tapers and without the need to exchanging the grinding wheel.
Special solutions
Large crankshafts
The JUCRANK 8 grinds crankshafts with a peripheral diameter of 470 mm and a clamping length of up to 4800 mm completely in a single clamping set-up. The crankshaft is supported by CNC-controlled steadies, measured following rough grinding and then selectively finish ground with the aid of the WK axis – all ensuring that only GO parts ever leave the machine.
Used crankshafts
In the interests of sustainability: Used crankshafts can be reground. Using an automatic work cycle, whereas the crankshafts are measured in the machine and subsequently ground without operator intervention.
Coolant tracking
When using large grinding wheels, a CNC-controlled swivel motion of the coolant nozzles follows the pin along the grinding wheel at a constant distance. This guarantees optimum cooling, as the coolant is directed permanently towards the grinding zone.
1S
1000
3000
5000
6XS
6S
6L
6XL
8S
8L
8XL
Technical data: JUCRANK 1S
Wheelheader Number

1

Grinding Length

150 mm

Clamping Length

150 mm

Center Height

100 mm

Component Weight

5 kg

Grinding Wheel Diameter

350 mm

Swing Diameter

80 mm

WxDxH mm (without peripherals)

1800 x 2500 x 2100

Weight

10.000 kg
Technical data: JUCRANK 1000
Wheelheader Number

1

Grinding Length

150 mm

Clamping Length

150 mm

Center Height

100 mm

Component Weight

5 kg

Grinding Wheel Diameter

350 mm

Swing Diameter

80 mm

WxDxH mm (without peripherals)

1500 x 2500 x 2100

Weight

9000 kg
Technical data: JUCRANK 3000
Wheelheader Number

1

Grinding Length

400 mm

Clamping Length

400 mm

Center Height

150 mm

Component Weight

15 kg

Grinding Wheel Diameter

350 mm

Swing Diameter

150 mm

WxDxH mm (without peripherals)

3400 x 2800 x 2100

Weight

12.000 kg
Technical data: JUCRANK 5000
Wheelheader Number

1

Grinding Length

700 mm

Clamping Length

700 mm

Center Height

170 mm

Component Weight

130 kg

Grinding Wheel Diameter

500 mm

Swing Diameter

280 mm

WxDxH mm (without peripherals)

4900 x 3400 x 2350

Weight

14.000 kg
Technical data: JUCRANK 6XS
Wheelheader Number

1

Grinding Length

500 mm

Clamping Length

600 mm

Center Height

170 mm

Component Weight

130 kg

Grinding Wheel Diameter

500/700 mm

Swing Diameter

280/320 mm

WxDxH mm (without peripherals)

3260 x 3750 x 2350

Weight

17.000 kg
Technical data: JUCRANK 6S
Wheelheader Number

1
2

Grinding Length

1000 mm
750mm

Clamping Length

1200 mm

Center Height

170 mm

Component Weight

150 kg

Grinding Wheel Diameter

500/700 mm

Swing Diameter

280/320 mm

WxDxH mm (without peripherals)

4100 x 3750 x 2450

Weight

21.000 kg
25.000 kg
Technical data: JUCRANK 6L
Wheelheader Number

1
2

Grinding Length

1800 mm
1500 mm

Clamping Length

2000 mm

Center Height

170 mm

Component Weight

200 kg

Grinding Wheel Diameter

500/700 mm

Swing Diameter

280/320 mm

WxDxH mm (without peripherals)

4900 x 3750 x 2450

Weight

24.000 kg
28.000 kg
Technical data: JUCRANK 6XL
Wheelheader Number

1
2

Grinding Length

2800 mm
2500 mm

Clamping Length

3000 mm

Center Height

170 mm

Component Weight

300 kg

Grinding Wheel Diameter

500/700 mm

Swing Diameter

280/320 mm

WxDxH mm (without peripherals)

6400 x 3750 x 2450

Weight

28.000 kg
32.000 kg
Technical data: JUCRANK 8S
Wheelheader Number

1

Grinding Length

3000 mm

Clamping Length

3000 mm

Center Height

530 mm

Component Weight

1000 kg

Grinding Wheel Diameter

1000 mm

Swing Diameter

470 mm

WxDxH mm (without peripherals)

7600 x 4200 x 3400

Weight

69.000 kg
76.000 kg
Wheelhead JUCRANK 8S
/10
Technical data: JUCRANK 8L
Wheelheader Number

1

Grinding Length

4000 mm

Clamping Length

4000 mm

Center Height

530 mm

Component Weight

1000 kg

Grinding Wheel Diameter

1000 mm

Swing Diameter

470 mm

WxDxH mm (without peripherals)

8600 x 4200 x 3400

Weight

73.000 kg
80.000 kg
Wheelhead JUCRANK 8L
/10
Technical data: JUCRANK 8XL
Wheelheader Number

1
2

Grinding Length

4800 mm
4600 mm

Clamping Length

4800 mm

Center Height

530 mm

Component Weight

1000 kg

Grinding Wheel Diameter

1000 mm

Swing Diameter

470 mm

WxDxH mm (without peripherals)

9600 x 4200 x 3400

Weight

77.000 kg
84.000 kg
Wheelhead JUCRANK 8XL
/10
To the top