Inquiry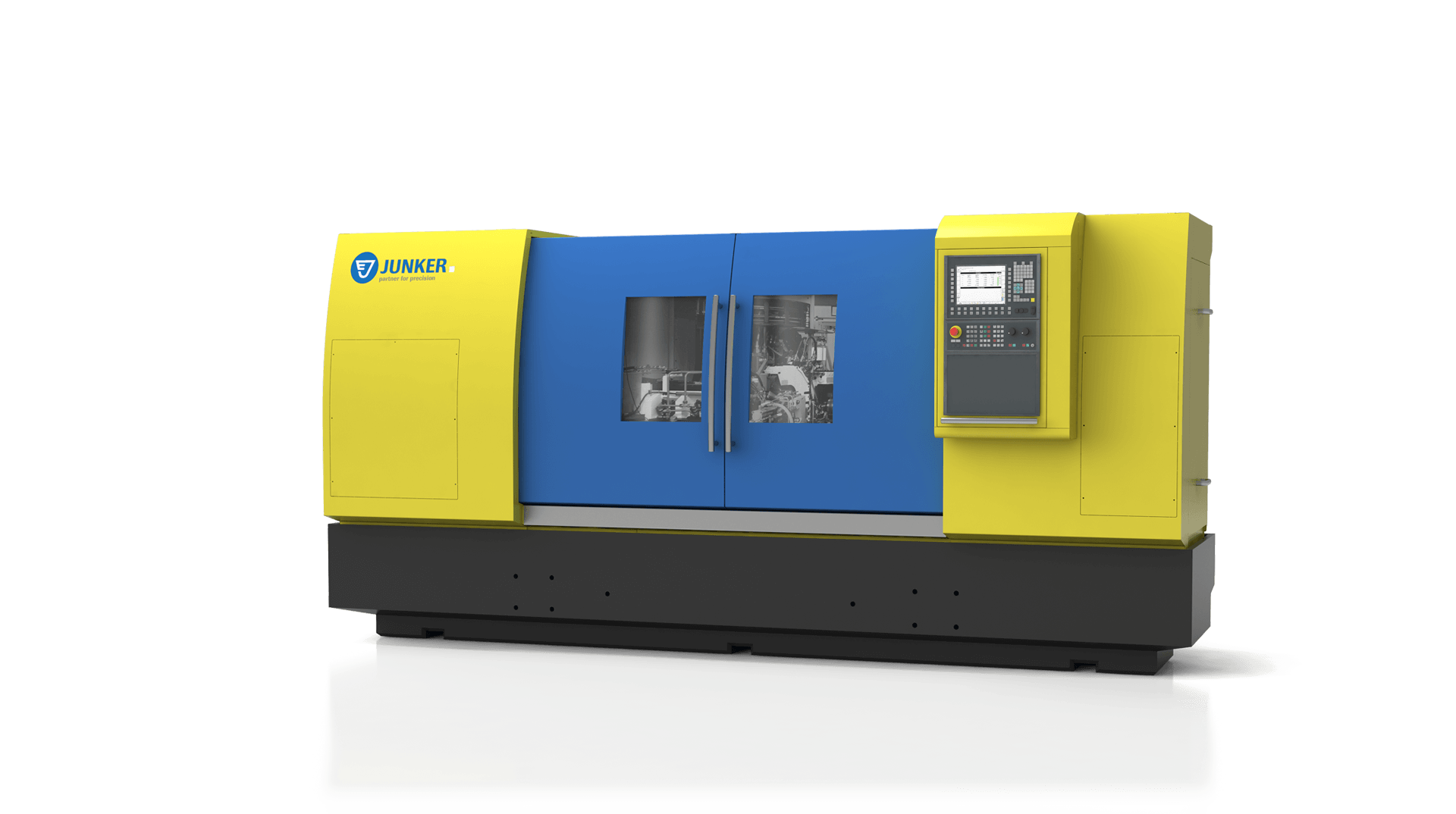 QUICKPOINT - Cylindrical grinding machines
Flexible high-performance grinding machine
High-speed grinding with QUICKPOINT combines JUNKER precision with maximum flexibility. QUICKPOINT ma-chines can be used for a wide range of applications, and at the same time boast impressive productivity. The result: versatility and excellent workpiece quality.
Highlights
High-speed grinding with sophisticated CBN/diamond grinding technology
Excellent part quality with one-time clamping of workpieces
Maximum availability with fully automated grinding process
Fast grinding speed with thorough coolant penetration of active grinding zone
Fast re-tooling with highly flexible machine concept
Grinding process descriptions

The QUICKPOINT Principle

Grinding with QUICKPOINT is OD high-speed grinding using single-point contact in the finish grinding area. QUICKPOINT works with an extremely low-wear CBN or diamond wheel just a few millimeters wide. By creating a relief angle, the contact zone between wheel and workpiece is reduced from a contact line to a contact point.

QUICKPOINT standard operations are shoulders, tapers, chamfers and plunge cuts. In addition, flute and thread grinding, as well as polygonal and surface grinding can also be integrated.
Special solutions
Fast changeover for low downtimes – the 3-point mounting system
This system has been applied to the wheelhead, workhead and tailstock and shortens the machine's tooling times.
Fast changeover and tooling times (< 2 min for center points, < 20 min for grinding wheels)
Easy-to-mount
Optimal centering
Axially mounted with screwed-on grinding wheel flange, allowing changeover in rotational direction
Concentricity: <= 2/1000 mm
Versatility pays
With a wide selection of wheelhead combinations, the QUICKPOINT line offers OD grinding solutions for practically any application: from the compact QUICKPOINT 1000 for smaller parts, to the QUICKPOINT 5000 for medium-sized parts, all the way to the QUICKPOINT 6 for large workpieces. Wherever you use a QUICKPOINT, it guarantees a low-cost manufacturing process.
Technical data: QUICKPOINT 1S
Wheelheader Number

1

Grinding Length

150 mm

Clamping Length

150 mm

Center Height

100 mm

Component Weight

5 kg

Grinding Wheel Diameter

350 mm

Swing Diameter

80 mm

WxDxH mm (without peripherals)

1800 x 2500 x 2100

Weight

10000 kg
Technical data: QUICKPOINT 1000
Wheelheader Number

1

Grinding Length

150 mm

Clamping Length

150 mm

Center Height

100 mm

Component Weight

5 kg

Grinding Wheel Diameter

350 mm

Swing Diameter

80 mm

WxDxH mm (without peripherals)

1500 x 2500 x 2100

Weight

9000 kg
Wheelhead QUICKPOINT 1000
Technical data: QUICKPOINT 3000
Wheelheader Number

1

Grinding Length

500 mm

Clamping Length

500 mm

Center Height

150 mm

Component Weight

15 kg

Grinding Wheel Diameter

350 mm

Swing Diameter

150 mm

WxDxH mm (without peripherals)

3400 x 2800 x 2200

Weight

12000 kg
Wheelhead QUICKPOINT 3000
/10

/10i

/20

/30

/40

3000/50

/50S

/60
Technical data: QUICKPOINT 5000
Wheelheader Number

1

Grinding Length

700 mm

Clamping Length

700 mm

Center Height

170 mm

Component Weight

130 kg

Grinding Wheel Diameter

500 mm

Swing Diameter

280 mm

WxDxH mm (without peripherals)

4900 x 3400 x 2350

Weight

14000 kg
Wheelhead QUICKPOINT 5000
/10

/10i

/18

/20

/30

/40

5000/50

/50S

/60
Technical data: QUICKPOINT 6XS
Wheelheader Number

1

Grinding Length

500 mm

Clamping Length

600 mm

Center Height

170 mm

Component Weight

130 kg

Grinding Wheel Diameter

500/700 mm

Swing Diameter

280/320 mm

WxDxH mm (without peripherals)

3260 x 3750 x 2450

Weight

17000 kg
Wheelhead QUICKPOINT 6XS
/10

/10i

/18

/20

/30

/40

/50

/50S

/60
Technical data: QUICKPOINT 6S
Wheelheader Number

1
2

Grinding Length

1000 mm
750 mm

Clamping Length

1200 mm

Center Height

170 mm

Component Weight

150 kg

Grinding Wheel Diameter

500/700 mm

Swing Diameter

280/320 mm

WxDxH mm (without peripherals)

4100 x 3750 x 2450

Weight

21000 kg
25000 kg
Wheelhead QUICKPOINT 6S
/10

/10i

/18

/20

/30

/40

/50

/50S

/60
Technical data: QUICKPOINT 6L
Wheelheader Number

1
2

Grinding Length

1800 mm
1500 mm

Clamping Length

2000 mm

Center Height

170 mm

Component Weight

200 kg

Grinding Wheel Diameter

500/700 mm

Swing Diameter

280/320 mm

WxDxH mm (without peripherals)

4900 x 3750 x 2450

Weight

24000 kg
28000 kg
Wheelhead QUICKPOINT 6L
/10

/10i

/18

/20

/30

/40

/50

/50S

/60
Technical data: QUICKPOINT 6XL
Wheelheader Number

1
2

Grinding Length

2800 mm
2500 mm

Clamping Length

3000 mm

Center Height

170 mm

Component Weight

300 kg

Grinding Wheel Diameter

500/700 mm

Swing Diameter

280/320 mm

WxDxH mm (without peripherals)

6400 x 3750 x 2450

Weight

28000 kg
32000 kg
Wheelhead QUICKPOINT 6XL
/10

/10i

/18

/20

/30

/40

/50

/50S

/60
Workpieces
Axle
Starter shaft
Drive shaft
Countershaft
Bolt
Bushing
Electric motor shaft
Excentric shaft
Stub shaft
Gear shaft
Piston pin
Piston ring
Motor shaft
Pump piston
Pump pinion
Pinion shaft
Pipe
Roller Bearings
Rotor
Worm wheel
Worm shaft
Spindle
Rod
Stator shaft
Stud
Turbine shaft
Valve Bodies
Cylinder
Rolling element
Shaft
Tool holder
Tool Blank
Gearwheel
Gear rod
Spigot
Cylinder rollers
Compressor shaft
To the top