Inquiry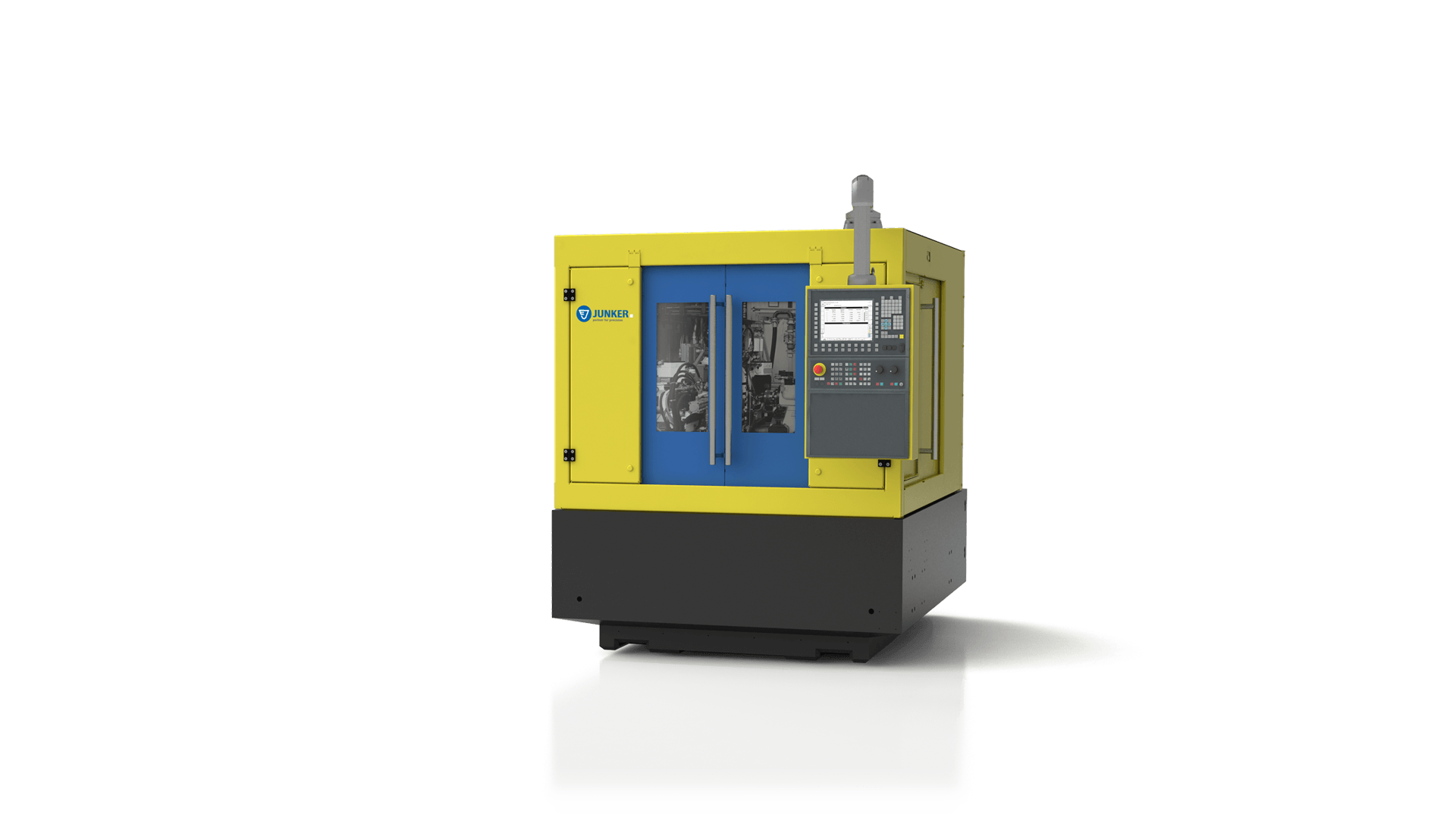 JUCAM - Non-cylindrical grinding machines
Purely a matter of form
The OD/ID grinding machines of the JUCAM series impress with precise grinding results in a single clamping set-up. Thanks to the control system with learning function – with which virtually all disturbing variables are compensated – camshafts, cam pieces and individual cams are given a perfect finish. The many decades of experience in grinding cams, the many special solutions and the resulting expertise in finding solutions convince engine and pump manufacturers the world over.
Highlights
Broad range of grinding solutions for camshafts, cam pieces and individual cams
Non-cylindrical OD/ID grinding
High utility value through adjustment to respective grinding assignment
High long-term precision due to hydrostatic round guides
Maximum repeat accuracy thanks to CBN or diamond abrasives
Minimized undulations due to grinding wheel balancing on two levels
Grinding process descriptions

OD/ID grinding

Grinding machines for grinding camshafts, cam pieces and individual cams combine non-cylindrical grinding for the cams and cylindrical grinding for the bearings. With non-cylindrical OD/ID grinding, the grinding wheel follows the cam contour through interpolation of the workpiece spindle (C-axis) with the grinding spindle (X-axis). CBN or diamond are used as an abrasive – for high cutting performance with a constant level of quality and a long tool life.

The cam geometry is specified in a lift table. In the process, each angle is assigned a lift value to define the cam contour and import it to the program. The software then interpolates the values automatically. The cam contour is frequently concave in the infeed and discharge area. Here the concave radius determines the maximum grinding wheel diameter that can be used.

External cylindrical grinding
Special solutions
Cam pieces
When grinding cam pieces, it is essential that the exact angular reference to the inner toothing is ensured. For this reason, the JUCAM clamps the cam pieces with an inner clamping mandrel. The longitudinal and radial positioning and the C-axis with direct drive result in a smooth, transition-free shifting surface.
Double workhead
The workhead with two opposing clamping devices minimizes the downtime when grinding individual cams and cam pieces: While grinding is being carried out on one side, unloading and loading, clamping and positioning are carried out on the other. The only downtime: Swiveling by 180 degrees in less than 3 seconds.
Grinding wheel sets
The use of grinding wheels sets is ideal for grinding cams with the same orientation. Several cam contours are ground simultaneously in one operation, which considerably reduces the cycle time. Carbon base bodies are also available for saving weight.
Technical data: JUCAM 1S
Wheelheader Number

1

Grinding Length

150 mm

Clamping Length

150 mm

Center Height

100 mm

Component Weight

5 kg

Grinding Wheel Diameter

350 mm

Swing Diameter

80 mm

WxDxH mm (without peripherals)

1800 x 2500 x 2100

Weight

10000 kg
Technical data: JUCAM 1000
Wheelheader Number

1

Grinding Length

150 mm

Clamping Length

150 mm

Center Height

100 mm

Component Weight

5 kg

Grinding Wheel Diameter

350 mm

Swing Diameter

80 mm

WxDxH mm (without peripherals)

1500 x 2500 x 2100

Weight

9000 kg
Technical data: JUCAM 3000
Wheelheader Number

1

Grinding Length

400 mm

Clamping Length

400 mm

Center Height

150 mm

Component Weight

15 kg

Grinding Wheel Diameter

350 mm

Swing Diameter

150 mm

WxDxH mm (without peripherals)

3400 x 2800 x 2200

Weight

12000 kg
Wheelhead JUCAM 3000
/10

/11

/20

3000/50

/50S

5000/51

/60

/61
Technical data: JUCAM 5000
Wheelheader Number

1

Grinding Length

700 mm

Clamping Length

700 mm

Center Height

170 mm

Component Weight

130 kg

Grinding Wheel Diameter

500 mm

Swing Diameter

280 mm

WxDxH mm (without peripherals)

4900 x 3400 x 2350

Weight

14000 kg
Wheelhead JUCAM 5000
/10

/10i

/11

/20

/50

/51

/60

/61
Technical data: JUCAM 6XS
Wheelheader Number

1

Grinding Length

500 mm

Clamping Length

600 mm

Center Height

170 mm

Component Weight

130 kg

Grinding Wheel Diameter

500/700 mm

Swing Diameter

280/320 mm

WxDxH mm (without peripherals)

3260 x 3750 x 2450

Weight

17000 kg
Wheelhead JUCAM 6XS
/10

/11

/12

/20

/50

/50S

/51

/60

/61

/62
Technical data: JUCAM 6S
Wheelheader Number

1
2

Grinding Length

1000mm
750 mm

Clamping Length

1200 mm

Center Height

170 mm

Component Weight

150 kg

Grinding Wheel Diameter

500/700 mm

Swing Diameter

280/320 mm

WxDxH mm (without peripherals)

4100 x 3750 x 2450

Weight

21000 kg
25000 kg
Wheelhead JUCAM 6S
/10

/11

/12

/20

/50

/50S

/51

/60

/61

/62
Technical data: JUCAM 6L
Wheelheader Number

1
2

Grinding Length

1800 mmm
1500 mm

Clamping Length

2000 mm

Center Height

170 mm

Component Weight

200 kg

Grinding Wheel Diameter

500/700 mm

Swing Diameter

280/320 mm

WxDxH mm (without peripherals)

4900 x 3750 x 2450

Weight

24000 kg
28000 kg
Wheelhead JUCAM 6L
/10

/11

/12

/20

/50

/50S

/51

/60

/61

/62
Technical data: JUCAM 6XL
Wheelheader Number

1
2

Grinding Length

2800 mm
2500 mm

Clamping Length

3000 mm

Center Height

170 mm

Component Weight

300 kg

Grinding Wheel Diameter

500/700 mm

Swing Diameter

280/320 mm

WxDxH mm (without peripherals)

6400 x 3750 x 2450

Weight

28000 kg
32000 kg
Wheelhead JUCAM 6XL
/10

/11

/12

/20

/50

/50S

/51

/60

/61

/62
Workpieces
cam
Piston ring
Cam piece
Camshaft
Camshaftbushing
Pump cam
Piezoceramic actuators
To the top