Inquiry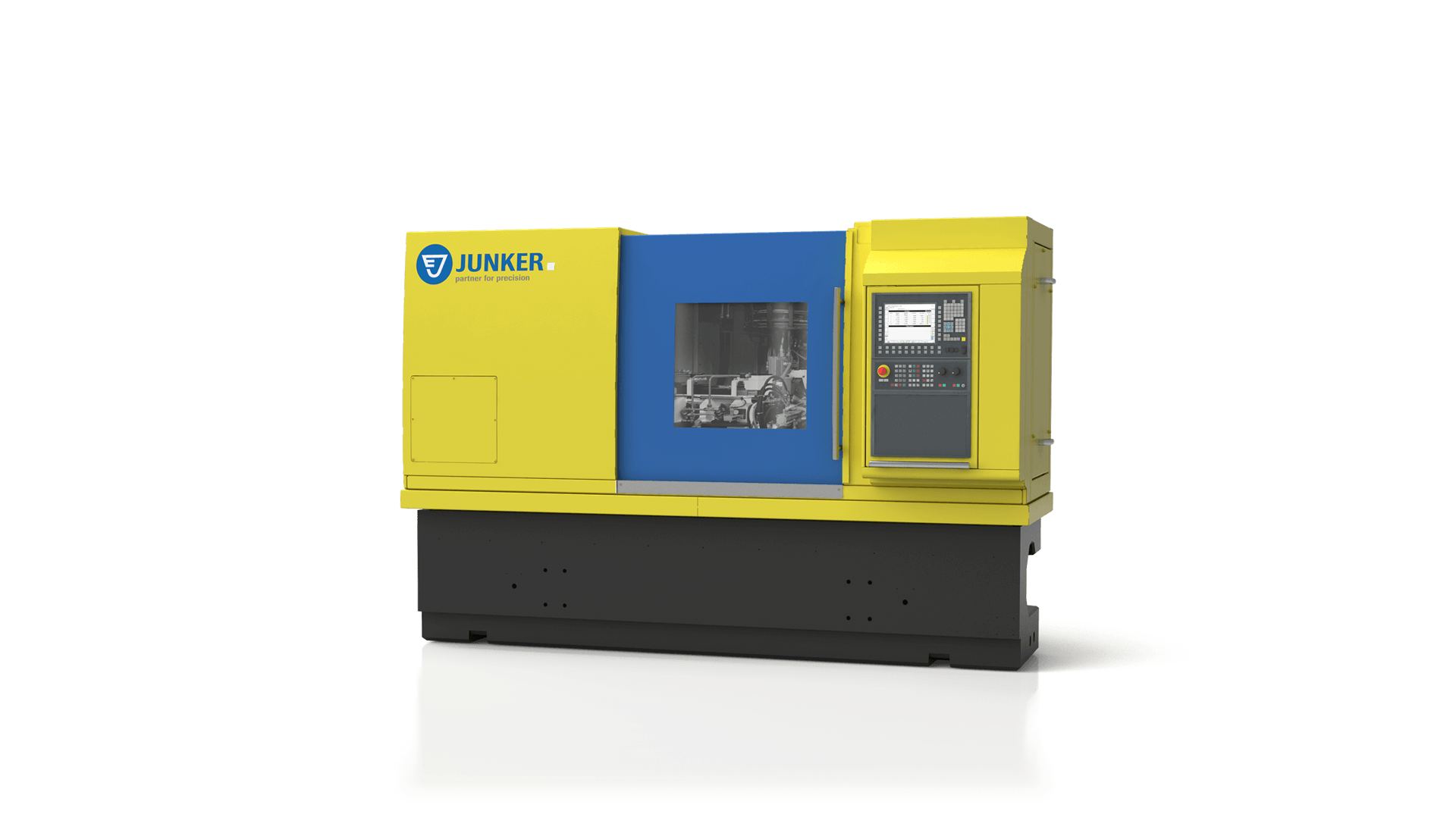 JUMAT - Cylindrical grinding machines
Versatile in every regard
Quality, productivity, availability – the JUMAT external and internal cylindrical grinding machine leaves nothing to be desired. Various sizes and a large number of wheelhead versions offer unrivaled versatility. Paired with the concentrated expertise of JUNKER, each machine is specially matched to the customer's requirements.
Highlights
High dimensional accuracy thanks to various measuring systems
Long tool life through use of CBN or diamond grinding wheels
Versatility due to a large number of wheelhead versions
Minimized undulations due to grinding wheel balancing on two levels
Fast changeover through patented 3-point mounting interface
Grinding process descriptions

External and internal grinding

The cylindrical grinding machines of the JUMAT series can perform both OD and ID grinding in a single clamping set-up. CBN and diamond grinding wheels enable high-speed grinding, provide for high cutting performance and enable grinding of difficult materials.
External cylindrical grinding

During external cylindrical grinding, the workpieces are clamped between tips or in a collet chuck. To increase productivity, grinding wheel sets are used for some applications. The JUMAT uses the straight and inclined plunge-cut grinding process.

With straight plunge-grinding, the cutting and feed movement is carried out radially to the workpiece. The diameters are ground either in one feed or with several feeds and axial twisting.
With inclined plunge-cut grinding, the grinding wheel is at an angle and the wheelhead (B-axis) is swiveled. The X and Z-axis interpolate. This makes it possible to grind the diameter and flat surfaces in a single feed.

To grind grooves or to pre-grind threads, a galvanically bonded grinding wheel is usually used.
Internal cylindrical grinding

Internal cylindrical grinding enables precise grinding of inside functional surfaces, such as drilled holes, cones or flat surfaces. High-speed grinding spindles are used to achieve the desired cutting speed, despite the smaller grinding wheel diameter.
Special solutions
Center drive
The center drive is a special drive system which clamps the workpiece in the center and drives it via a servomotor. This enables both workpiece ends to be ground at the same time.
Grinding of steering rods
In the automotive industry, electromechanical, axially parallel power steering systems are increasingly used. The JUMAT grinds the outside thread of the steering rod in as single clamping set-up from a solid blank. Pre-grinding is carried out with galvanically bonded grinding wheels, and finish grinding with vitrified bonded CBN grinding wheels.
Grinding of ball screw nuts
The double workpiece headstock, with two opposing clamping devices, minimizes the downtime when grinding threads of ball screw nuts: While grinding is being carried out on one side, loading and unloading, positioning and clamping are carried out on the other. The only downtime: Swiveling by 180 degrees in less than 3 seconds.
Technical data: JUMAT 1S
Wheelheader Number

1

Grinding Length

150 mm

Clamping Length

150 mm

Center Height

100 mm

Component Weight

5 kg

Grinding Wheel Diameter

350 mm

Swing Diameter

80 mm

WxDxH mm (without peripherals)

1800 x 2500 x 2100

Weight

10000 kg
Technical data: JUMAT 1000
Wheelheader Number

1

Grinding Length

150 mm

Clamping Length

150 mm

Center Height

100 mm

Component Weight

5 kg

Grinding Wheel Diameter

350 mm

Swing Diameter

80 mm

WxDxH mm (without peripherals)

1500 x 2500 x 2100

Weight

9000 kg
Technical data: JUMAT 3000
Wheelheader Number

1

Grinding Length

400 mm

Clamping Length

400 mm

Center Height

150 mm

Component Weight

15 kg

Grinding Wheel Diameter

350 mm

Swing Diameter

150 mm

WxDxH mm (without peripherals)

3400 x 2800 x 2200

Weight

12000 kg
Wheelhead JUMAT 3000
/10

/10i

/15

/20

/30

/40

3000/50

/50S

/60
Technical data: JUMAT 5000
Wheelheader Number

1

Grinding Length

700 mm

Clamping Length

700 mm

Center Height

170 mm

Component Weight

130 kg

Grinding Wheel Diameter

500 mm

Swing Diameter

280 mm

WxDxH mm (without peripherals)

4900 x 3400 x 2350

Weight

14000 kg
Wheelhead JUMAT 5000
/10

/10i

/15

/18

/20

/30

/30KGi

/40

5000/50

/50S

/60
Technical data: JUMAT 6XS
Wheelheader Number

1

Grinding Length

500 mm

Clamping Length

600 mm

Center Height

170 mm

Component Weight

130 kg

Grinding Wheel Diameter

500/700 mm

Swing Diameter

280/320 mm

WxDxH mm (without peripherals)

3260 x 3750 x 2450

Weight

17000 kg
Wheelhead JUMAT 6XS
/10

/10i

/15

/18

/20

/30

/40

/50

/50S

/60
Technical data: JUMAT 6S
Wheelheader Number

1
2

Grinding Length

1000 mm
750 mm

Clamping Length

1200 mm

Center Height

170 mm

Component Weight

150 kg

Grinding Wheel Diameter

500/700 mm

Swing Diameter

280/320 mm

WxDxH mm (without peripherals)

4100 x 3750 x 2450

Weight

21000 kg
25000 kg
Wheelhead JUMAT 6S
/10

/10i

/15

/18

/20

/30

/40

/50

/50S

/60
Technical data: JUMAT 6L
Wheelheader Number

1
2

Grinding Length

1800 mm
1500 mm

Clamping Length

2000 mm

Center Height

170 mm

Component Weight

200 kg

Grinding Wheel Diameter

500/700 mm

Swing Diameter

280/320 mm

WxDxH mm (without peripherals)

4900 x 3750 x 2450

Weight

24000 kg
28000 kg
Wheelhead JUMAT 6L
/10

/10i

/15

/18

/20

/30

/40

/50

/50S

/60
Technical data: JUMAT 6XL
Wheelheader Number

1
2

Grinding Length

2800 mm
2500 mm

Clamping Length

3000 mm

Center Height

170 mm

Component Weight

300 kg

Grinding Wheel Diameter

500/700 mm

Swing Diameter

280/320 mm

WxDxH mm (without peripherals)

6400 x 3750 x 2450

Weight

28000 kg
32000 kg
Wheelhead JUMAT 6XL
/10

/10i

/15

/18

/20

/30

/40

/50

/50S

/60
Workpieces
Axle
Starter shaft
Drive shaft
Countershaft
Bolt
Bushing
Electric motor shaft
Excentric shaft
Stub shaft
Gear shaft
Piston pin
Piston ring
Motor shaft
Pump piston
Pump pinion
Pipe
Rotor
Worm wheel
Worm shaft
Spindle
Rod
Stator shaft
Stud
Turbine shaft
Cylinder
Rolling element
Shaft
Tool holder
Tool Blank
Gearwheel
Gear rod
Spigot
Cylinder rollers
Compressor shaft
To the top